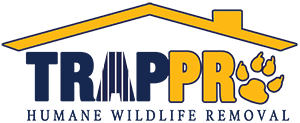 Toll Free: 800-651-TRAP (8727)
$25 OFF
Valid Toward Residential Trapping And Permanent Repairs
*Coupon Must Be Presented At Time Of Service*
This coupon is valid for residential trapping (up to approx. 1 acre)
and permanent repair completion ONLY.
Not valid with use of any other coupons or offers. Not valid toward inspection services (including snakes, rats, and mice), bird removal from exhaust vents, odor searches, smoking of lines, or commercial use.
** Other exclusions may apply **
Offer expires April 2, 2019
Our professional crews service most of Maryland, Northern Virginia and Washington DC including Annapolis, Baltimore, Columbia and Bethesda MD, Arlington, Alexandria, Fairfax VA and many other areas for nuisance wildlife removal including humane trapping of squirrels, raccoons, mice, bats, rats, groundhogs, snakes, birds and more.